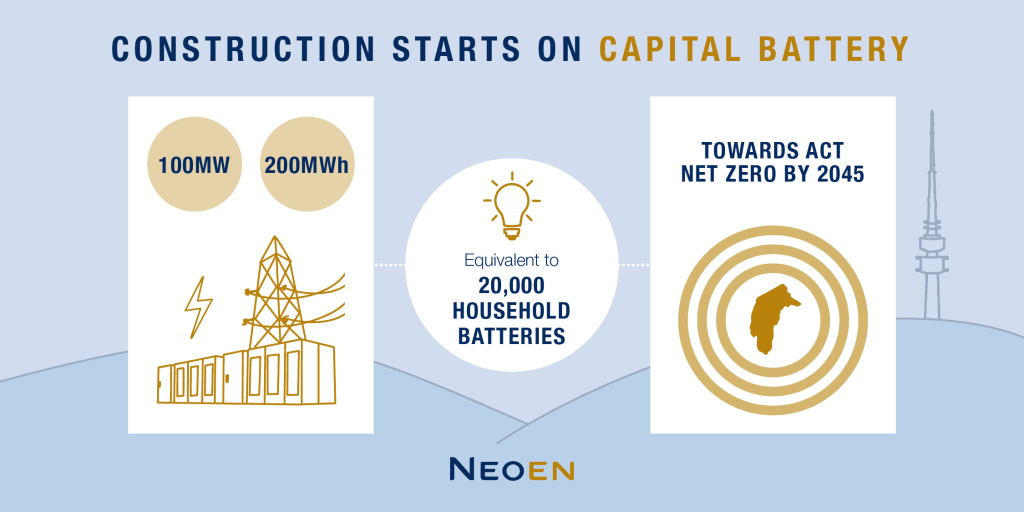 Construction Starts on Capital Battery
Proud to announce the start of construction for the 100 MW Capital Battery !
Congrats to the team & thanks to Doosan, our battery storage experts and TransGrid, transmission network providers. Early construction works have commenced with the battery expected to start operating in the first half of 2023.
Neoen has provided notice to proceed to battery storage experts Doosan, signaling the start of construction of its 100 MW / 200 MWh Capital Battery. The project is located next to TransGrid's Queanbeyan substation, which is in the Australian Capital Territory (ACT).
Neoen committed to building a 50 MW large-scale battery in the nation's capital as part of its winning bid in ACT Government's 2020 renewable energy auction, in which it was awarded a 14-year contract to supply 100 MW of wind energy from Stage 1 of Goyder Renewables Zone. In response to the emerging market for battery services, Neoen has decided to increase the size of the Capital Battery to 100 MW / 200 MWh.
The investment is designed to help modernise and stabilise the ACT grid with the battery capable of performing multiple roles including firming renewables, providing frequency services and transmission network support. In line with Neoen's develop-to-own business model, the company will be the long-term owner and operator of the project and once operational will launch a Community Co-investment Scheme, providing residents of the ACT and Capital region with an opportunity to become financial stakeholders in the project.